Discover more from Visible Hands
How business works, the implications of business on society, and how individuals can keep them accountable.
💸 Visible Hands: Can't Spell Pensions Without PE
With private market assets exceeding $4 trillion and the number of US private equity owned companies increasing by 60% over the past decade, we are taking a closer look at the industry in today's news

With private market assets exceeding $4 trillion and the number of US private equity (PE) owned companies increasing by 60% over the past decade, we are taking a closer look at the industry in today's newsletter.
Just last month, the Securities and Exchange Commission had a meeting to discuss the PE industry and whether private investments should be recommended to the general public. The American Investment Council (AIC), the advocacy and resource organization for the industry, showed up in full force to highlight how PE funds have delivered superior returns for investors. (According to Axios, the AIC PAC donated over $243K to congressional candidates and committees since the 2018 midterm, of which ~65% went to Republicans, including senators such as Mitch McConnell, Susan Collins, and Thom Tillis.)
PE funds own everything from streetwear brands (check out Hasan Minhaj's recap of Carlyle, owner of Supreme, here) to doctor's offices to tear gas. Remember Taylor Swift calling out "the unregulated world of private equity" during her dispute last year with her Carlyle-backed record label? Or the demise of Toys R Us?
Investors often turn to PE to earn returns that can outperform the public stock market. PE usually involves a leveraged buyout (aka LBO, buying a controlling interest in a company with as much debt as possible) whereby PE funds restructure, cut costs, and / or grow the company before selling it again. Relative to investing in a S&P 500 index fund, a PE strategy is considered higher risk, and higher reward. 
The limited partners (the institutions that provide the capital for PE funds, namely public pension funds) have been balking at the hefty fees PE firms charge to justify their supposed outsized returns. (The California Public Employees' Retirement System paid $3 billion in fees between 1998 to 2015 on returns of over $24 billion.) Research from Bain & Co. highlights that the industry has been making 15% returns on average over the last ten year, which sounds attractive until we see that return is matched by the public market.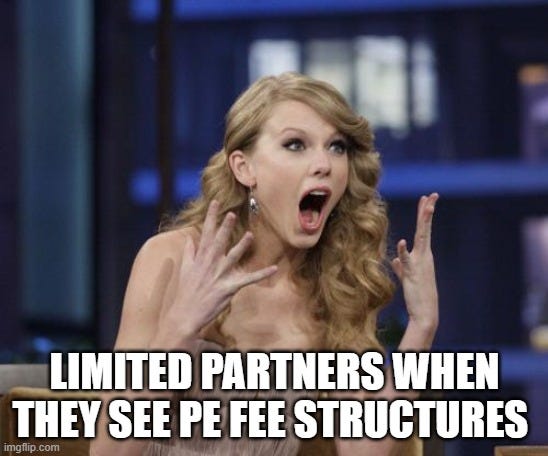 PE funds are usually diversified across industries. This can lead to tensions as evidenced in the case of Blackstone's investment in Oatly earlier this year. Critics lambasted the sustainability-focused beverage company for "selling out." Blackstone is a fund owned by a Trump-supporting billionaire that also invests in companies involved in Amazonian deforestation, sparking calls for a boycott of Oatly. Of course, these are not the only companies owned by Blackstone; they are also investors in Bumble and Ancestry, among many other non-consumer facing companies, which have not been the target of similar boycotts.
Although many PE firms, including the aforementioned Carlyle and Blackstone, have Environmental, Social, and Governance (ESG) teams and policies, the impact of their portfolios still raises many questions. In fact, research into the UN Principles for Responsible Investment (a group that supports better ESG practices and reporting among funds) found that becoming a signatory did little to change investment practices and decision-making. 
All of this leads to the question -- does PE investment actually boost our economy, and is it worth the fees? Well, the research is mixed. 
And the impact of PE is being further complicated by the Labor Department's proposal earlier this year to open up 401(k) investments to PE funds. If even more capital pours into this industry, how can we hold the investors and their portfolio accountable?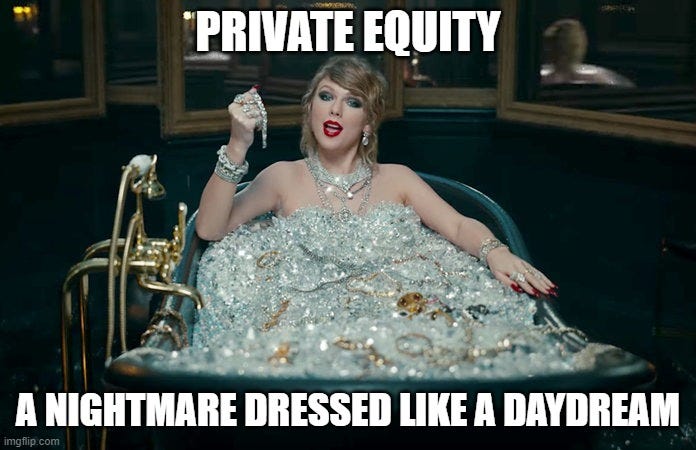 As an investor:
As an employee: 
As a citizen:
As a consumer:

Stay connected with us through Medium, Instagram, Twitter, Facebook, LinkedIn, and, of course, email! Please invite any friends, roommates, coworkers, armchair activists, and financiers to join the movement. See ya next Thursday!