Discover more from Visible Hands
How business works, the implications of business on society, and how individuals can keep them accountable.
🎮 Visible Hands: Not All Fun and Games?
A closer look at the video game industry -- its recent growth, the fight against Big Tech, and the many internal problems it faces.

Quarantined folks have turned en masse to video games for entertainment during COVID-19. Meanwhile, gaming companies are trying to take on Big Tech for their business practices, but should they also be looking internally at their own practices? 
Gaming is at an all-time high. The video game market is forecasted to surpass $200 billion by the end of 2023, which is about twice the size of the film industry. According to Nielsen, 82% of global consumers played video games and watched video game content during the height of the pandemic lockdowns. Twitch, a live-streaming gaming platform and subsidiary of Amazon, saw a 101% year-over-year increase in viewership this spring with 1.6 billion hours watched per month. Unity, the development platform behind half of all games, saw 95 million new gamers in the spring (almost double their pre-COVID amount), and is still averaging over 88 million new players weekly. 
In recent weeks, Epic Games, mastermind behind the video game sensation Fortnite, sued Apple and Google for removing it from app stores. To circumvent the 30% intermediary fee that Apple and Google charge in their app stores, Epic Games recently included an option for players to pay them directly in their in-game marketplace. After being kicked off these app stores, the company almost immediately filed a lawsuit against this "anticompetitive behavior" and launched a publicity campaign against the tech giants. With Fortnite Season 4 launching last Thursday, players on iOS or macOS were limited to the game's older version and left unable to play with non-Apple platform users.
But before we applaud Epic Games for sticking it to monopolistic Big Tech, let's not forget the many problems plaguing the gaming industry. To start, the employment practices of gaming companies have raised eyebrows. Although the industry employs more than 220,000 people worldwide, thousands of freelancers create the script and art, and armies of contractors help in game development. According to a 2016 survey, 34% of video game developers don't work for a company -- a recent phenomenon to manage headcount costs for an industry that faces choppy launch-dependent workflows. As employees of "temp" agencies that contract with the gaming companies, these contractors often have no paid vacation or benefits, lower pay, exclusion from video game credits, and limited options for career progression. According to Bloomberg, "at one studio, a contractor says they were given cheaper, less comfortable chairs."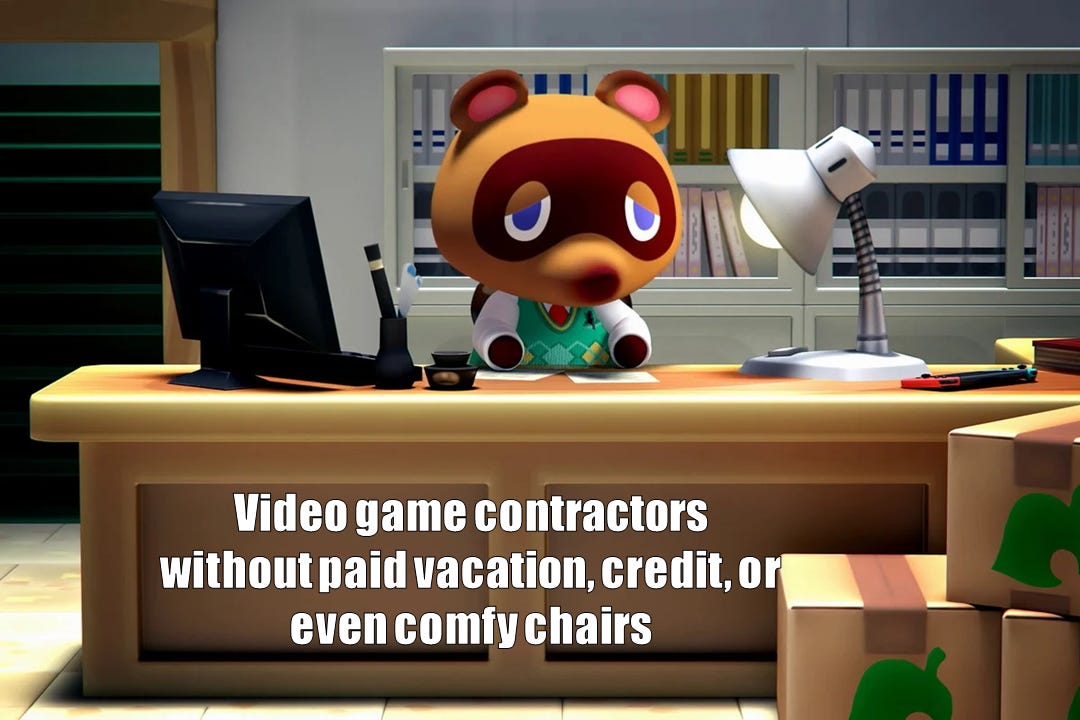 And the gaming and esports industry still battles pervasive racism and misogyny. From having only two black women fighting game characters among the countless fighting games, to the stark lack of racial diversity in worldwide game developers (81% identify as White, 7% as Latinx, 2% as Black), racial bias is often cemented in the story lines and games. Since June, hundreds of people in the gaming industry have gone public with allegations of gender-based discrimination, harassment and sexual assault (you can find the compiled list of allegations in this Google Sheet). As Brooke Thorne, a streamer and gamer, noted, "When it's one call-out, it's a problem with a person. When there's a ton of call-outs, it's a problem with the industry." 

As a consumer:
As an employee: 
As an investor:
As a citizen:

Stay connected with us through Medium, Instagram, Twitter, Facebook, LinkedIn, and, of course, email! Please invite any friends, roommates, coworkers, armchair activists, and Twitch streamers to join the movement. See ya next Thursday!