Discover more from Visible Hands
How business works, the implications of business on society, and how individuals can keep them accountable.
Visible Hands: Immigrants, We Get the Job Done 🤝
"Give me your tired, your poor…" and your educated, your highly skilled...

Immigration restrictions have corporations worried, but hey, Hamilton is coming to small screens next week!
On Monday, Trump's executive order that temporarily suspended new work visas and extended restrictions on green card issuances faced outcry from business leaders. This order could force "as many as 525,000 foreign workers out of the country for the rest of the year." Although the policy was enacted to maintain employment opportunities for Americans during the current downturn, businesses claim they will be unable to fill jobs that Americans are unwilling or incapable of doing. 
This comes a week after the Supreme Court upheld the Deferred Action for Childhood Arrivals (DACA) program, which allowed Dreamers to maintain U.S. work authorization.
Setting aside the moral arguments supporting open borders and America's ethos as a "melting pot", immigration helps the bottom line: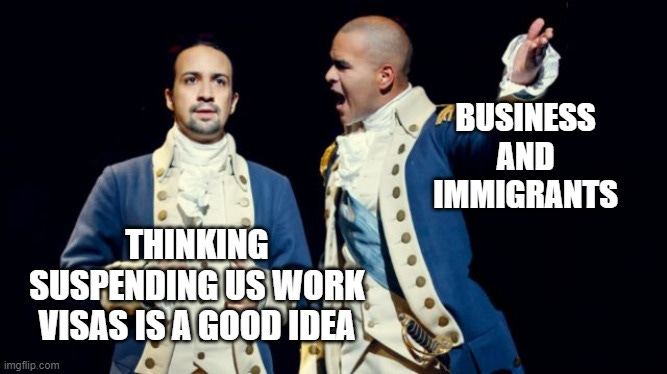 One of the now suspended visas is the H-1B, which is the main way companies sponsor workers with technical expertise. Tech companies, including Amazon and Google, employ a significant number of these visa holders. H-1Bs usually entail a competitive lottery and approval process with a cap of 85,000 workers a year (<1% of the US workforce). As most applicants are turned away, many international students can't contribute to the US economy longer term. Since STEM graduates have a 3-year period before they must "win" the lottery and visa approval, versus 1 year for non-STEM students, some business schools have even created more STEM-focused curriculums to enable these students to work in the US longer. 
But there are more problems with this system. For better or worse, companies have immense influence over employees' immigration status through their sponsorship and have used this to unfairly treat employees. According to a 2020 survey of workers from Lyft, Amazon, Facebook, Deloitte, and other large corporations, H-1B employees "are hyper-aware of their temporary, employer-dependent livelihoods" and often feel "like an underclass, with stressful working conditions and discrimination due to their visa status." This pressure can have tragic consequences.
And immigrants have also been underpaid. In 2019, the Labor Department found that Oracle demonstrated a preference for "Asian H-1B visa holders, whom the company then pays less than their citizen counterparts." And a 2015 study found that "37% of unauthorized immigrant workers were victims of minimum wage violations."
It's not enough for these companies to simply support pro-immigration policies when they're not also improving their employment practices…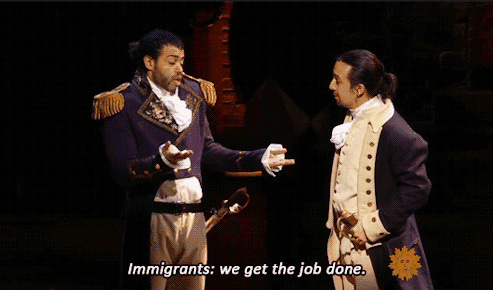 As an employee:
As a citizen:
As a consumer:
As an investor:

📚 Book club reminder: We started a summer book club! We'll be reading The Fifth Risk by Michael Lewis -- expect a virtual meet-up in July to chat about it (details to come next week), but get the book if you're interested in joining! And we plan to do another one in August, so please vote on what else we should read this summer here.
Reader spotlight: Check out Gorongosa Coffee, which sells specialty coffee that directly supports girls' education, wildlife, and rainforest conservation in Mozambique.
Stay connected with us through Instagram, Medium, Twitter, and, of course, email (visiblehandsmedia@gmail.com)! Please invite any friends, roommates, coworkers, armchair activists, and immigration lawyers to join the movement.