Discover more from Visible Hands
How business works, the implications of business on society, and how individuals can keep them accountable.
⬆️ Visible Hands: The Rise of Citizen Capitalism
We had the pleasure this week to speak with Michael O'Leary, co-author with Warren Valdmanis of Accountable: The Rise of Citizen Capitalism.
We had the pleasure this week to speak with Michael O'Leary, co-author with Warren Valdmanis of Accountable: The Rise of Citizen Capitalism. We spoke about shareholder capitalism, impact investing and tradeoff theory. Michael was an impact investor at Bain Capital Double Impact and worked as a policy advisor. We condensed and edited this interview for clarity and concision. 

VH: What inspired Accountable?
MO: Accountable is about the fight to reform capitalism. If you look over the last 50 years at the way corporations were run in this country, they were run to maximize shareholder profits at the expense of our communities and our environment. We're seeing a bit of a sea change; impact investing has taken off.

But impact investors have been frustrated with how our movement fits into the broader fight. We'd focus on investing in healthy food companies, but when Taco Bell introduces a Doritos Locos Tacos, it sells a million tacos in a day. How can we have a real influence if we're investing in smaller companies that have marginal impact compared to Fortune 500 companies? The Fortune 500 employs 30 million people. Decisions made at Walmart and Amazon will swamp what the entire impact investing space does. We started to think about how we can actually have an impact.
VH: How do you think about the question of shareholder versus stakeholder capitalism? 
MO: We have fundamentally misdrawn the battlelines of capitalism. If you talk to most people in this fight they'll paint it as shareholders and stakeholders. But who are shareholders in America? Over half of Americans own shares through one way or another; 15 million more people own shares than voted in the last election. What would serve their interest? Is it so counter to what serves communities? If you look at the median, typical shareholder: They are 50 years old, have $60,000 in their 401K and can't access that money for the next 15 years. That shareholder is so broadly diversified that the broader development of the economy is most important, not maximizing the interest of Exxon Mobil this quarter.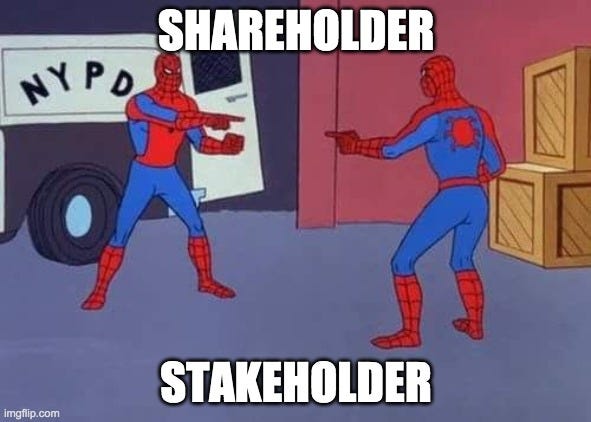 VH: Many Americans have trouble trusting big corporations. How can businesses restore trust?
MO: Danone did something radical by today's standards. They put purpose into their charter. They converted to the French equivalent of a benefit corporation, so shareholders can sue them if they're in breach. 
Even so, we've won the battle of ideas and are typically losing the war of action. Amazon or Facebook will say all these wonderful things. But then they don't back it up with "tie yourself to the mast" action the way that Danone has done.

Chevron will make a big deal of a $100 million future energy fund. That sounds like a massive amount of money -- until you look how they invested $20 billion in traditional oil and gas exploration that same year. This breeds more cynicism than it does idealism.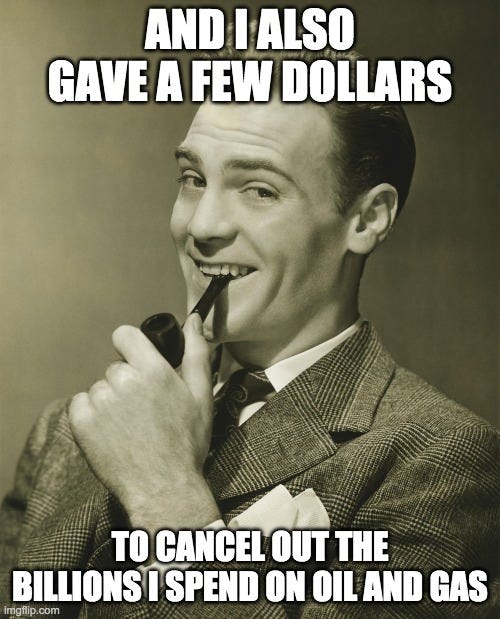 VH: Given recent events, how should we be thinking about the future of American capitalism?
MO: It's becoming more clear that corporations ignore consumer sentiment at their peril. Much of the COVID response came in the form of things that were temporary - CEOs took no pay or perfume companies made hand sanitizer. But I'm most interested in what actions, especially in response to anti-racism and BLM, are they taking today that will be lasting? Environmental, social, and governance (ESG) concerns should not be some side project of marketing or investor relations, but core to the company. 

Thanks to Michael for many of these suggestions! 
As a consumer:
Although no amount of non-GMO chips and LED lightbulbs will fix capitalism, ultimately the decisions we make set the parameters for what a profitable strategy looks like. For example: When consumers began to prefer organic to non-organic, Walmart became the largest organic food player. 

⅔ of money is spent in three areas: housing, transportation and food. We make those decisions relatively infrequently (e.g., where we live, what car we buy). Focus on the few major decisions that have a big impact. 
As an investor:
Think about leverage points for change. Almost all shares are owned through BlackRock, Vanguard and State Street funds. If we can get big institutions to represent our values better that flows into every company they're invested in. 

Although investing in funds that don't include tobacco, oil and gas, etc. might not be going far enough, it's still pushing big institutions to think about how to be a little more radical. 

The lesson from Accountable is that sometimes shareholder value can be attained even if companies don't aim directly at it. Take CVS. To succeed long-term, they couldn't be selling tobacco behind the counter. It came at a real short-term cost. The dollar stores were just introducing tobacco. But over the long term, that's what built up the CVS health brand. 
As an employee: 
⅔ of employees think they can influence their organization. Employee activism has gained momentum especially in the tech world where there's a war for talent. 

If you are an incoming junior analyst at a big bank, it's a tall order to ask what you're doing to fight for your values. People have varying amounts of power and there's more and more opportunity to join movements within companies. For the people who are more senior, the onus is on them to be leading these movements. 
As a citizen:
Vote. 15% more people say voting is very important than actually vote in this country. 

Our first responsibility is to vote to make sure our legislature reflects our interest, especially in regulating financial markets. The SEC requires reporting on things like cost of goods sold and revenue numbers for investors to make better decisions, but they don't require ESG metrics.

Stay connected with us through Medium, Instagram, Twitter, Facebook, LinkedIn, and, of course, email! Please invite any friends, roommates, coworkers, armchair activists, and Taco Bell lovers to join the movement. See ya next Thursday!