Discover more from Visible Hands
How business works, the implications of business on society, and how individuals can keep them accountable.
Visible Hands: The Tale of Two Pandemics 🎭
Guest writer, Ronnie Westmoreland, explores how working-class Americans are running out of lifelines while the wealth gap widens.
We are excited to have recent Chicago Booth graduate Ronnie Westmoreland as our guest contributor today. He has a background in credit through his experiences in corporate banking and private debt and will be joining Bain & Company as a consultant later this year.

While the fallout from the virus deepens due to a surge in cases across the country, we continue to see the tale of two stories between working class citizens and America's wealthiest. The country's wealth gap is being exacerbated as the rich see record high net worths while the working-class American run out of lifelines.
Many Americans are facing a financial cliff at the end of July with limited helpful options. Banks are tightening their lending standards, the additional $600 federal unemployment insurance benefit is scheduled to end July 31, and eviction moratoriums are ending in many states. The disappearance of these would-be lifelines to the average American could force many who have been furloughed or laid off to make the difficult decision between groceries and their next housing payment. 
In response to COVID-19, banks have begun to pull back on consumer lending across three segments: credit cards, mortgages, and auto loans. For example, in the first quarter Wells Fargo cut the maximum amount that homeowners can borrow against the value of their homes as well as applying stricter valuations to applicants' homes. Furthermore, as many Americans look to take advantage of historically low interest rates set by the Fed, banks have cited a lack of visibility in their customers' financial situations as to why there's a decline in approvals of consumer loans.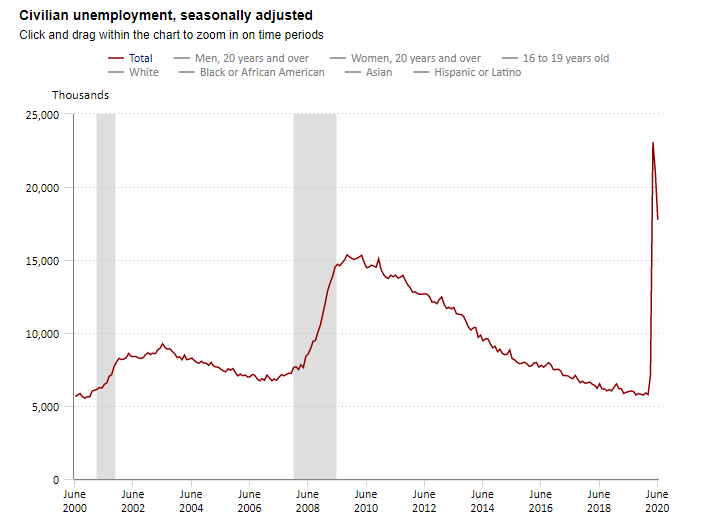 Source: U.S. Bureau of Labor Statistics
With approximately 17 million workers continuously claiming unemployment insurance and an additional 14 million self-employed/gig workers claiming the newly created Pandemic Unemployment Insurance, consumers have scrambled to shore up their nest eggs while the amount of credit available is shrinking. This credit decline has been the most dramatic in credit cards which, unlike mortgages and auto loans, are unsecured, making them a riskier type of consumer lending. The financial strain created from the virus developed so quickly that many applicants went from safe borrowers to risky borrowers overnight, causing banks to slash credit limits of existing customers and require higher credit scores for new applicants. Many cash-starved Americans face an uphill battle as there are no set plans for additional government aid, eviction moratoriums are winding down across many states, and banks look to protect themselves in this current economic environment. 
It has been said that the current pandemic is expected to expand the wealth gap in America. As the "average" American is facing a financial cliff, the richest Americans are seeing their fortunes soar to record heights. America's 630 billionaires have seen their wealth grow by ~$583 billion during the pandemic (that's almost 3 times the entire market cap of Disney today).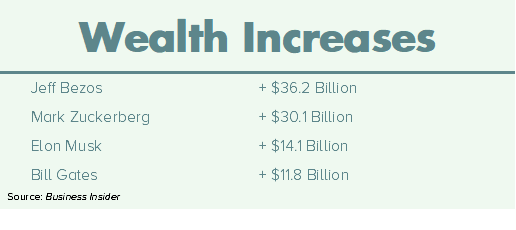 Adding fuel to the fire is the fact that the country's wealthiest have become masters in the art of tax avoidance. A recent study from UC Berkeley found that in 2018, for the first time in U.S. history, billionaires paid a lower effective tax rate than working class citizens (23% and 24.2%, respectively). As taxpayer money continues to fund relief efforts, a group of the world's wealthiest (including Abigail Disney) have signed an open letter demanding a tax increase on all wealthy individuals like themselves to increase relief efforts without overburdening the working class or government deficit. The stark contrast between the pandemic's effect on the working class and the wealthy needs to be addressed in order to fix the damage to consumer confidence and the economy.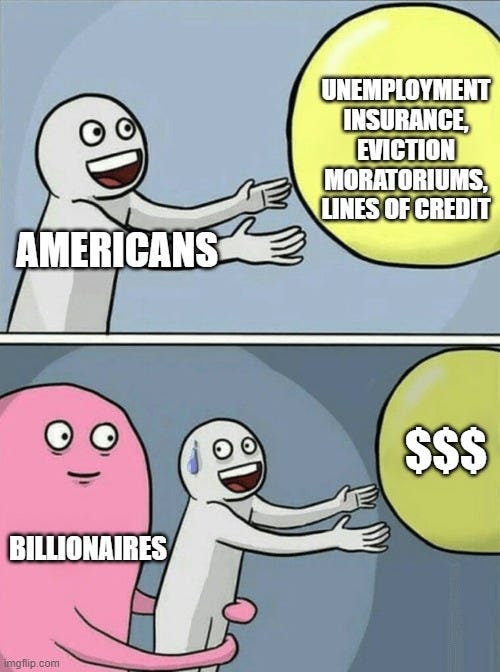 As a consumer:
As an employee:
As an investor:
As a citizen: 
Thank you again to Ronnie for offering his insights in this newsletter. 
📚 Book club meeting alert! We're reading The Fifth Risk by Michael Lewis. Join us THIS Sunday, July 26 @ 2 PM ET / 11 AM PT (Zoom link here and here's the calendar invite). Excited to discuss your thoughts on the book and the role of government broadly. And please feel free to come even if you haven't had a chance to finish (or read a page of the book).

⭐Shout out to Deanna, Madhura, Ariana, and Paisia (our amazing Upkey team) for helping us build our marketing and social media presence over the last two weeks! Stay connected with us throughMedium, Instagram,Twitter, Facebook, LinkedIn, and, of course, email (visiblehandsmedia@gmail.com)!
Please invite any friends, roommates, coworkers, armchair activists, and billionaires to join the movement. See you next Thursday!