Discover more from Visible Hands
How business works, the implications of business on society, and how individuals can keep them accountable.
Visible Hands: This land is your land 🗽
Featuring a Q&A with Sister District! Please VOTE!
📚 Book club alert: We're reading The Fifth Risk by Michael Lewis as the 1st book in our summer book club. Mark your calendar for Sunday, July 26 @ 2 PM ET / 11 AM PT (Zoom link here and here's the calendar invite). Excited to discuss your thoughts on the book and the role of government broadly with you all. And please feel free to come even if you haven't had a chance to finish (or read a page of the book).

July 4th is around the corner. It's been a crazy year thus far and the election is still 4 months away!
Today we are excited to spotlight our first advocacy group, Sister District, and its founder / executive director, Rita Bosworth. Sister District is an organization pushing to turn state legislatures blue and ensure fair redistricting by empowering an enduring community of volunteers. They are a case study of an organization that identified a problem in the system and is actively trying to address this concern at a grassroots level. In the 2018 midterm, 96% of official Sister District candidate races outperformed the last Democrat who ran in a midterm election in their district, and 8% of Sister District supported candidates won in districts that Hillary Clinton lost by 47% or more (compared to just 3% of Democratic state legislative candidates nationally). 
Regardless of your political views, we hope this Q&A with Rita provides insights into how individuals and grassroots groups can get politically involved and bring about change.
VH: Visible Hands talks a lot about how folks should fully take advantage of every chance they have as a decision maker--as a consumer, employee, investor, and citizen. We often hear that it is "easier" to just retweet or like a story and continue being an armchair activist. How do you motivate people, especially busy professionals, to get more involved? 
RB: We focus a lot on making activism fun and "bite sized." If you can do something for just a few hours a month, with your friends or people who will soon become friends, the barrier to entry is much lower. We've always grown organically and have never seen a decline in engagement, because we stress social connections and people bringing friends and family into the fold.
VH: What energizes you about the work Sister District does? 

RB: The chance to make a direct difference, every election cycle. We work at the state level so every year is an "on" year for us – which means that every year is a chance to iterate and improve on what we've done in the past. We're also able to see the legislators we elect make an immediate difference in their communities and continue our relationship with them over time. It makes our work feel very tangible.
VH: How have you seen individual contributions lead to structural change, especially on a more localized level?
RB: Legislation that starts at the state level can someday become federal policy, and elected legislators who start at the state level may someday become federal leaders. So, not only do state legislatures influence an immense amount of everyday life, they're also the place we must look to for structural change throughout the system. 
VH: What are things we should be mindful of as we head into the election in November? 
RB: This is the biggest election year of our lifetimes, and there are a lot of unknowns, especially with the coronavirus pandemic. If you woke up on November 9, 2016 and wondered if you could have done something more to stop Trump from being elected, now is your chance to make a difference and leave it all on the field.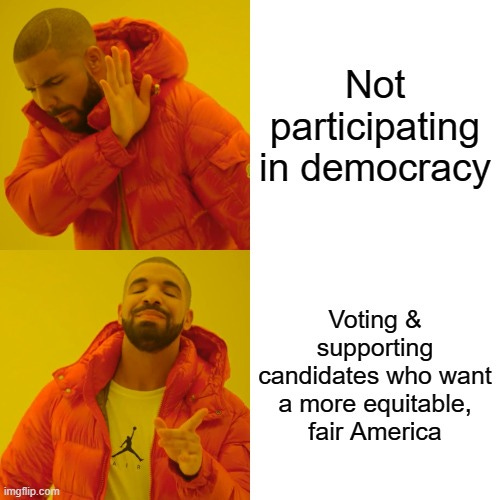 As a citizen:
As an employee:
As a consumer:
As an investor:

Stay connected via our Instagram, Twitter, Medium, and, of course, email (visiblehandsmedia@gmail.com)! Please invite any friends, roommates, coworkers, armchair activists, and grassroots community organizers to join the movement. See ya next Thursday!